Fish, Fun and Fright
We're bringing the screech to the beach!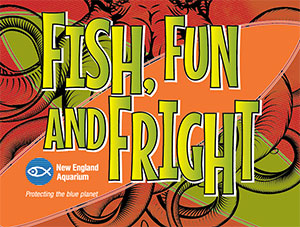 Check out the fun from last year's event!
(photos: D. DeLucia, E. Lee)

Friday, October 24, 2014
6:00 p.m. to 9:00 p.m.
Following is information for members who have purchased tickets for Fish, Fun and Fright:
Advance tickets are absolutely required. We will not be selling tickets on the evening of the event.
As with all member events, someone from the member household on record must be present for the group to be admitted.
Tickets are non-refundable.
The doors to the Aquarium will open at 6:00 p.m. Check-In will start in the Simons IMAX Theatre beginning at 5:30 p.m.
There will be treats available, but members seeking more extensive meal options are encouraged to have dinner at home or visit one of the many restaurants in the area.
During the event, members will receive an increased discount of 15 percent off all Gift Shop purchases.
We will not have a coat check for this event, so please plan appropriately.
Please take advantage of the resources available on our website for help with directions, parking and accessibility.
Prizes will be awarded in the following costume contest categories:
Best Adult Costume
Best Child Costume
Best Group Costume
Best Theme Costume
Members are entitled to purchase as many tickets as permitted by their membership level at the member reate AND that same number of tickets at the guest rate. In other words, you may purchase TWICE the number of tickets normally permitted with your membership level. As always, children under 3 are free and do not need a reservation.
Associate: 2 member rate + 2 guest rate
Patron: 4 member rate + 4 guest rate
Ambassador: 6 member rate + 6 guest rate
Ocean Explorer: 8 member rate + 8 guest rate
Executive Family: 4 member rate + 4 guest rate
Conservation Society: 8 member rate + 8 guest rate
Navigator Society: 8 member rate + 8 guest rate
The New England Aquarium may take photographs or record video of this event. By attending you consent to the possible reproduction of your name, voice, and/or likeness in connection with future promotions, fundraising efforts, or marketing, and you expressly waive any claims you may have in connection therewith.
If you have any questions that are not answered above, please call Membership Events at 617-973-6564.
Proud Supporter: