The Power of Storytelling to Protect the Ocean with Sruthi Gurudev
Date:
Time:
6:30 PM - 7:30 PM
Location:
Simons Theatre
Boston, MA 02110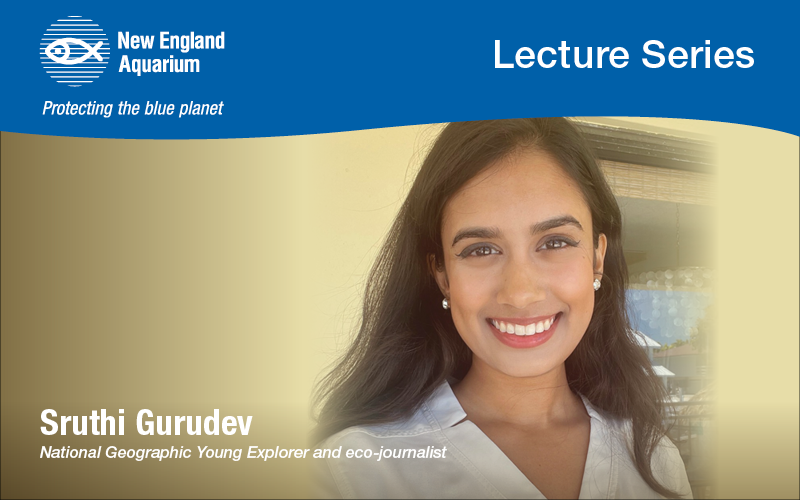 The New England Aquarium Lecture Series welcomes National Geographic Young Explorer and aspiring eco-journalist Sruthi Gurudev. Since her first encounter with coral reef bleaching as a teen, Ms. Gurudev has believed it's never too soon to start helping the ocean. At the age of 22, and with a grant from the National Geographic Society, she founded the digital magazine An Hour in the Deep. A forward-looking, solutions-oriented publication, it is a hub for young people interested in sharing stories about ocean conservation and sustainable solutions. Join us for a talk about youth-led conservation efforts, eco-journalism, and the role powerful stories play in motivating us to protect the planet.
ABOUT THE SPEAKER
Sruthi Gurudev is founder and editor-in-chief of An Hour in the Deep E-Magazine, a National Geographic Young Explorer, and an aspiring eco-journalist. Last year, she served as an expedition storyteller aboard the exploration vessel E/V Nautilus, documenting the National Geographic Society's (Maritime Heritage Team) journey in waters around the Hawaiian Islands. She is an avid scuba diver and a member of the World Ocean Day community, Reserva Youth Council, and the Out of Eden Walk Project. She holds a bachelor of science degree in finance from the University of Illinois Chicago. In addition to her ocean conservation activism and work on her digital magazine, she is a credit analyst for Motorola Solutions.
PLEASE NOTE: Virtual registration closes at 2:00 p.m. on May 11.