Exploring Massachusetts and Stellwagen Bank National Marine Sanctuary with Keith Ellenbogen
Date:
Time:
6:30 PM - 7:30 PM
Location:
Simons Theatre
Boston, MA 02110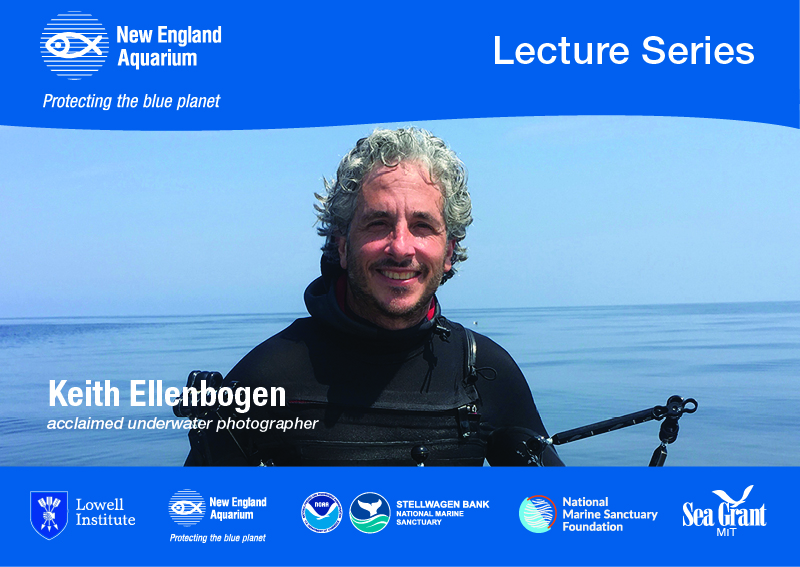 The New England Aquarium Lecture Series will present acclaimed underwater photographer Keith Ellenbogen in a talk titled Exploring Massachusetts and Stellwagen Bank National Marine Sanctuary on June 22 at 6:30 p.m. Join us in person or online to discover an extraordinary ocean ecosystem that supports almost 600 documented ocean species, including Atlantic cod, striped bass, sharks, and whales. This national marine sanctuary, situated between Cape Ann and Cape Cod, helps perpetuate life-sustaining food chains throughout Massachusetts Bay and beyond. Learn more about Keith Ellenbogen and his upcoming outdoor exhibit on Central Wharf titled "Space to Sea," which will be on view on Central Wharf Plaza from June 22 through November 1, 2022.
ABOUT THE SPEAKER
Keith Ellenbogen is a celebrated underwater photographer and the recipient of an Ernest F. Hollings Ocean Awareness Award for his work showcasing the dynamic marine wildlife off the coast of Massachusetts and within Stellwagen Bank National Marine Sanctuary in honor of the sanctuary's 30th anniversary. He is an associate professor of Photography at SUNY/Fashion Institute of Technology; visiting artist at Massachusetts Institute of Technology Sea Grant; senior fellow, International League of Conservation Photographers; fellow, The Explorers Club; and an affiliate partner, Mission Blue – A Sylvia Earle Alliance. Keith holds an MFA from Parsons School for Design and currently resides in Brooklyn, New York.
This event is free to the public and made possible through the generosity of the Lowell Institute; the New England Aquarium; the National Oceanic and Atmospheric Administration's Stellwagen Bank National Marine Sanctuary; the National Marine Sanctuary Foundation; and the MIT Sea Grant College Program at the Massachusetts Institute of Technology. For those attending in person, parking validation is available.