"Last of the Right Whales" U.S. Film Premiere and Panel Discussion
Date:
Wednesday, February 16, 2022
Time:
6:30 PM - 8:30 PM
Location:
Simons Theatre
Boston, MA 02110
United States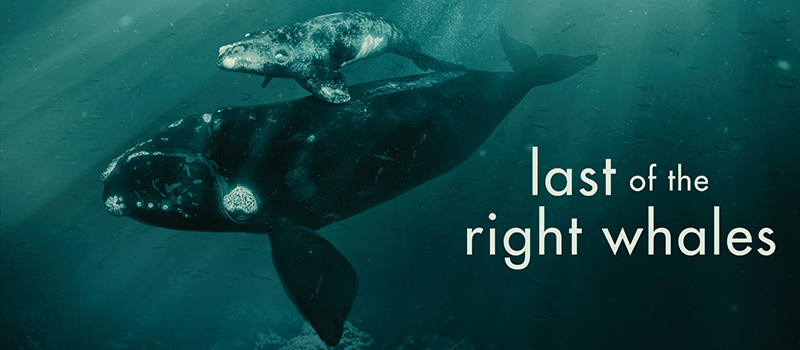 On Wednesday, February 16, the Aquarium's Lecture Series presents the U.S. premiere of Last of the Right Whales, a documentary film by award-winning filmmaker Nadine Pequeneza. This film examines the plight of the critically endangered North Atlantic right whale and documents the extraordinary efforts of a group of allies, including a wildlife photographer, a marine biologist, a whale rescuer, and a crab fisher, to better understand and save these majestic animals.
Last of the Right Whales is the story of the rapid decline of a nearly 12-million-year-old species due to unintended human consequences, including loss of feeding grounds owing to climate change, grievous injuries caused by fishing line entanglements, and vessel strikes. Through extraordinary cinematography and unprecedented access to film the whales' migration, comes a story of hope and a call to action we cannot ignore.
A panel follows the film screening at this in-person only event in the Simons Theatre. Panelists include:
Nadine Pequeneza

, Producer and Director, Last of the Right Whales

Marc Palombo

, Massachusetts Lobster Fisher (currently testing new ropeless gear)

Heather Pettis

, Research Scientist, Anderson Cabot Center for Ocean Life, New England Aquarium

Patrick Ramage

, Senior Director, Outreach and Program Collaboration, International Fund for Animal Welfare
Moderated by

Michael Conathan

, Senior Policy Fellow, Ocean and Climate, Aspen Institute Energy and Environment Program
This Aquarium Lecture Series event is free to the public and presented in partnership with the Lowell Institute, HitPlay Productions, and the International Fund for Animal Welfare (IFAW).
PLEASE NOTE: This event is in-person only. In compliance with the City of Boston's vaccination mandate and mask requirement, as of February 15, guests at the Simons Theatre and the New England Aquarium must provide proof of two doses of the COVID-19 vaccine to enter the building. Face masks are also required. Learn more about these safety guidelines »